SOUTHERN HUNTS

We Are Jim Shockey's
Outfitters in Pakistan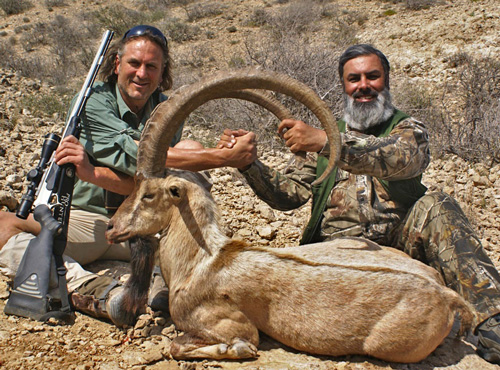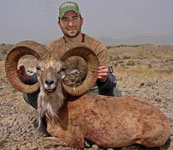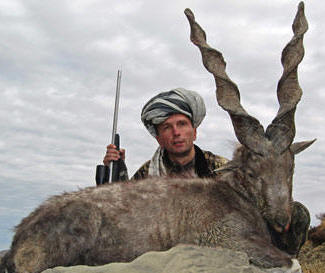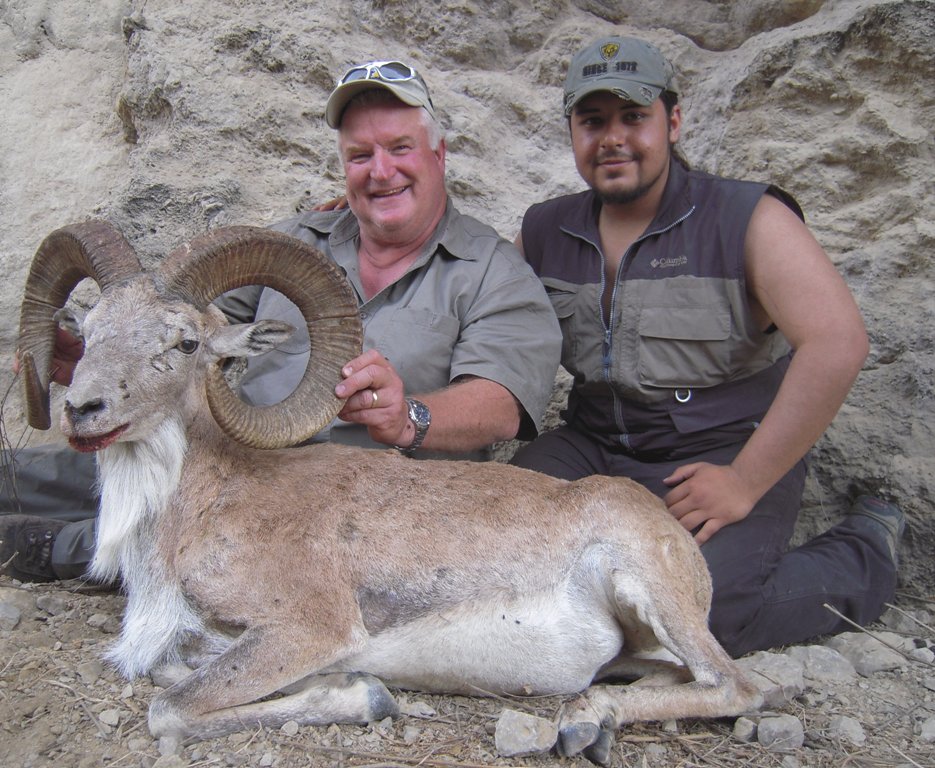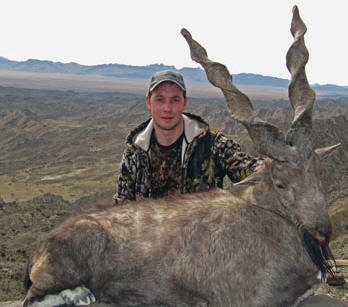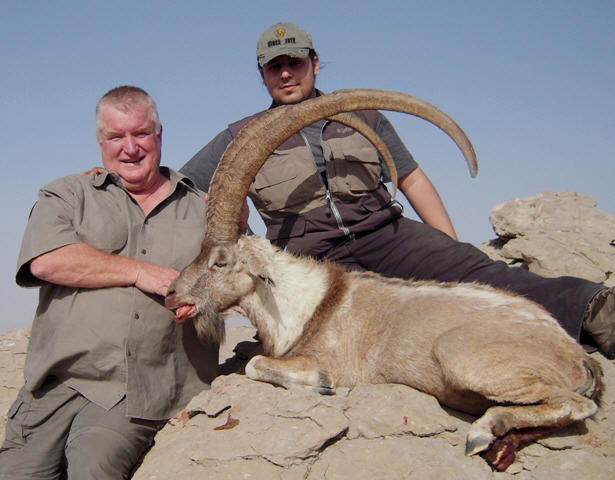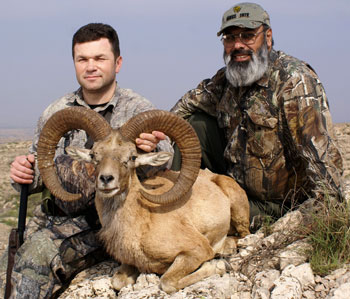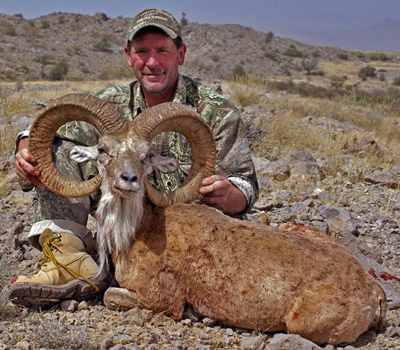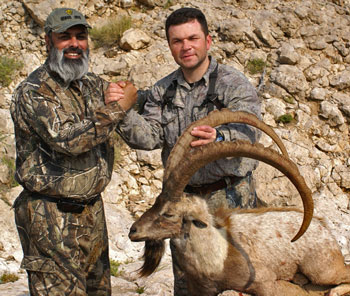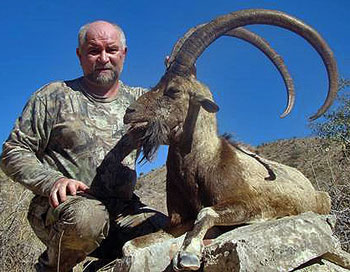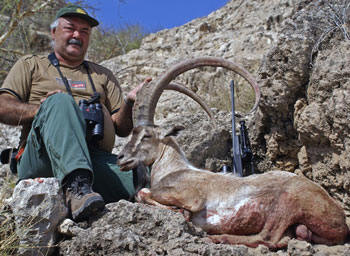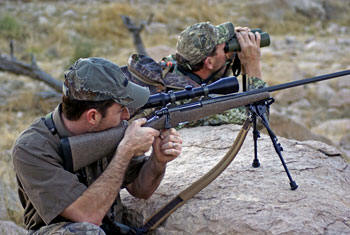 WILD BOAR HUNTS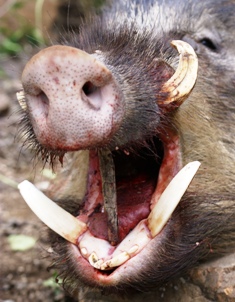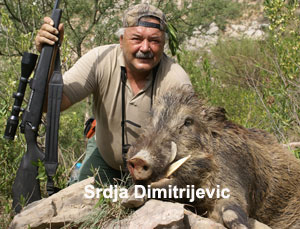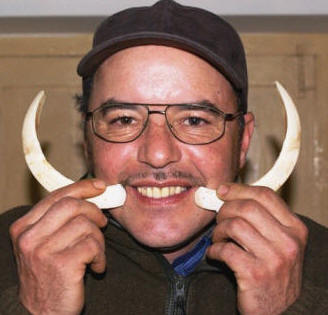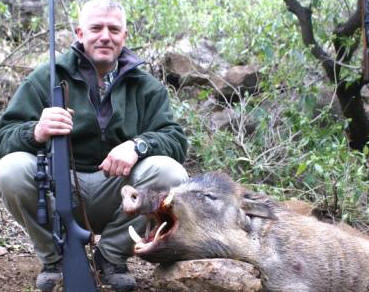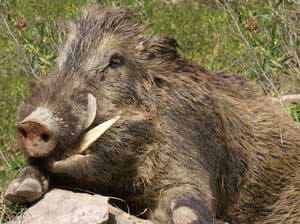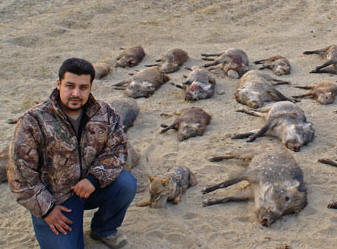 PAKISTAN - A PARADISE FOR TROPHY HUNTERS
The domain of world's rarest species of Markhor, Urial and Ibex
You may also be interested in : Wild Boar Driven Hunts
SULAIMAN MARKHOR GALLERY
BLUE SHEEP GALLERY
FAST FACTS ABOUT TROPHY HUNTING IN PAKISTAN

► Pakistan's total area is 803,940 s/km - Land area is 778,720 s/km, Water area is 25,220 s/km.

► It's 3 times bigger than UK, 3X Italy, 10X Austria, 19X Switzerland & 26 times bigger than Belgium.

► Pakistan domains some of the rarest species of wild sheep & goat on Earth, like Blue Sheep,

► Kashmir, Astor & Sulaiman Markhors; Punjab, Blandford & Afghan Urials; Himalayan & Sind Ibex.

► All species are protected by strictly monitored community based programs and since poaching is

► severely punished, it is almost non existent. Limited number of hunting permits are issued by wild

► life department of Pakistan which are sold out in open auctions. Hunting in some areas is so easy,

► hunters have shot their big games at roadside while sitting in their jeeps. The official hunting

► season begins on 01 of October and ends on 30 of April. Hunting in Southern Pakistan does

► not require any physical fitness, however, hunts in the northern mountains can be challenging.

Pakistan Guides was founded in 1990. Our team is headed by Mr. Kaiser Khan and served by Professional Hunters like Shambi Khan, Raja Naeem, Iqbal, Siffat Shah, Kamaluddin, Ghulam Sarwar Jamali, Younas, Abbas, Bahadur Khan & Gadda Mohammed who happen to be the pioneers of trophy hunting in Pakistan. We began hunting of wild sheep, boar & goat in early 90's. We have served many prominent hunters like Jim Shockey, Greg Bond, Scott Headley, Chance Cornett, Gary Rigoti, Joseph Zbylski, Gary Parker, Arnold Jardstrom, Richard Edelen. Corey Knowlton, Roberto Bicciochi, Chris Nash, Glenn Merle, SardjaDimitrijavic, Vadim Gomzyakov,

Constantin Popov, Andreev Oleg, John Gulius, Richard, Edelen, Wulf Goetze & so on !

The CEO of Pakistan Guides, Mr. Kaiser Khan is a certified mountaineer backed by over 35 years of experience in conducting adventure and cultural tours in Pakistan like trophy hunting, wild boar hunting, ice & rock climbing, trekking, jeeping, kayaking, biking, camel safaris, photo safaris etc. Being an experienced climber and trekker, Mr. Kaiser Khan has explored all the mountain valleys and hunting habitats of Pakistan. He personally escorts his clients on their hunts and he is so well familiar with numerous rich pockets of wild sheep, mountain goats and wild boars.

Kaiser has strong connections with Pakistan's bureaucracy & district administrators & enjoys excellent working relations with indigenous communities of guides, cooks, porters, game watchers, scouts, sardars, village councilors & drivers who play most vital role in making our hunting ventures a real big success. He is extensively experienced in providing services and logistical support to hunters, climbers, trekkers & other adventure seekers exploring most exotic regions of Pakistan. In our team, we have some of the best indigenous professional hunters and game watchers who have served some of the world's leading Hunters.

At Pakistan Guides, we assure, we'll make your hunting experience in Pakistan most memorable and unique as compared to your other hunts you've accomplished anywhere else in the world. You'll be amazed to see the natural beauty of our country, and its very rich wild life. You'll be impressed by our community based organized protected habitats and you'll be enthralled by the hospitality of its inhabitants. Every hunt is escorted by professional hunters, local guides, game scouts, drivers & cooks backed by decades of experience.

Rest assured, you will be in good hands !

Why Hunt In Pakistan ?

By the virtue of our rich traditions, incomparable hospitality and great cultural values, all Pakistanis render great respect to Foreign Hunters … In fact, they reckon them as heroes and consider a great honor to become their friends. So don't be surprised when you receive overwhelming hospitality hard to be found elsewhere in the world.

This makes us so proud to host our foreign guests and make their hunting holidays an unforgettable experience !


Hunters are given personalized care & utmost attention by our experienced team of hunting professionals with good support of game watchers & scouts from the community based organizations and provincial wild life departments who spend days & nights stalking the animals in their areas. They are all backed by decades of experience and in lieu thereof, we give you 100% guarantee for sighting and successful hunt of your desired game.


Some of our habitats are so rich, trophies have been taken by hunters in a matter of 3 to 4 hours on the very first day of their arrival in areas like KVO, Khybar, Durreji, Pacharan & Halalo,. After the hunt is taken, the trophy becomes an honorable mention for that area so the locals are as happy as the hunter is. You'll witness their profound happiness when they celebrate your successful hunt with cheers, music and dance around you. This indeed encourages foreign hunters to visit Pakistan time & again for more hunts.

From the vast expanses of deserts in south to the towering peaks of the Karakorums in the north, our big game habitats are spread all over the country. Depending on your desired game, you would certainly need our expertise to choose the most suitable hunting area. Many of them are so easy to be rambled, whereas, some do pose challeging approach. Nevertheless, our field staff won't let you carry your hunting gear, and all you need to carry is your binoculars.


COMBINATION HUNTS
Hunters may proceed with combination hunts all over Pakistan & there are no official restrictions. All combination hunts can be taken in the same area or you may hunt them in different areas.

COMMUNITY BASED HUNTS
IN PROTECTED HABITATS

Our community based hunting has played a vital role in protecting many of our rare species and thus, guaranteed our hunts. One big reason that makes our hunts successful is that over 80% of the trophy permit money paid to our Govt is evenly distributed to all families of the respective communities protecting the habitat. This gives a great boost to protection and enhancement of our wild life because our communities work very hard and prevent poaching by all means. Due to this strict monitoring and continued stalking of our community game scouts, we can always guarantee of your desired game sighting and hunt.

HOW BIG IS PAKISTAN ?


Pakistan is a big country. It's divided into 5 provinces viz : Punjab, Sind, Baluchistan, Sarhad & Northern Areas. It's 3 times bigger than UK, 3 times of Italy, 10 times of Austria, 19 times of Switzerland, 26 times of Belgium & 1/6th of the USA. It is located in Southern Asia, bordering the Arabian Sea, between India on the east and Iran and Afghanistan on the west and China in the north.

Its

Total area is 803,940 sq km, Land is 778,720 sq km & Water is 25,220 sq km. Coastal line is 1046 km. It has flat Indus plain in east; mountains in north & northwest & Balochistan plateau in west. Geographic coordinates: 33 42 N, 73 10 E. Time difference: UTC+5 (10 hours ahead of Washington, DC during Standard Time). Total population is approx 160 millions.
HUNTER'S PARADISE


PUNJAB URIAL, CHINKARA & BLACK BUCK

These beautiful animals are found in the arid low hills of the Salt Range of Pakistan which covers four large districts viz: Kalabagh, Mianwali, Jehlum & Chakwal. Some of the main privileges of hunting in these meadows is that all of these areas are nearer to Islamabad as compared to the far flung Northern areas. We won't be depending on any weather bound domestic flights and our access to these areas will be through main roads on which we run our first class air conditioned motor coaches. The average driving time from Islamabad to these habitats is approximately, two to three hours.

however, upon arriving the road end of the habitat, some times we need to use 4WD jeeps to go deeper into the meadows but mostly we stalk on foot. The walks are easier on the undulating but dry & small hills, ravines and gorges studded with thorny shrub and tall grass. Since these areas are quite below the snow line, temperatures during the peak Hunting Season (Dec-Jan) are pleasantly moderate (ordinary fleece or a jacket is sufficient) but by the e Mid of February, it becomes quite warn and becomes hotter by March.. So jeeping, camping, walking and stalking is much easier as compared to the same in the mountainous habitats of our Northern Areas.


SULAIMAN MARKHOR, SIND IBEX,
AFGHAN URIAL & BLANDFORD URIAL

The straight horned Sulaiman Markhor is found in the mountains of Torghar (Province of Baluchistan) between 7500-9500 feet. Afghan Urial is found in the rich habitats of Torghar, Takatoo & Torgbag in Baluchistan Whereas, the Blandford Urial and Sind Ibex are found in Durreji (Bluchistan) and also in Sumbuk, Surjan, Halalo, Pachran, Eiri and Hathiano in the province of Sind. The average altitudes are between 700 to 1800 feet above sea level and temperatures are so pleasant you can hunt in an ordinary jacket or fleece.

BLUE SHEEP, HIMALAYAN IBEX, ASTOR MARKHOR & KASHMIR MARKHOR

These

beautiful animals are found in the mountainous regions of Dashkin, Mushkin, Turbiling, Astor, Kaigah, Gol, Chitral, Tushi, Bunji, Shimshal, Hushay, Baghecha, Basho, Kharmang, Skoyo, Karabathang, Basingo etc. Altitudes of these areas start from about 2100 meters (or 7000 ft) & go up to 4500 meters (15000 ft). Most of these areas are accessible by 4WD Jeeps and we have to walk for small distances, as in winters, these animals come down to the meadows near the villages where they can be seen and hunted easily. You may rest assured, with all the support from our team, we won't let you or your guests face any problems going all the way up to such places because there are no technical or high altitude climbs involved & we reckon them as easy to moderate walks. Hunting in some areas is so easy that hunters have shot their games while sitting in their jeeps.





Our hunting zones are spread from North to the South of country and our guests see a variety of geography, people and their cultures. The altitudes of these zones differ in various parts of our country. For example, the Punjab Urial is found in the arid low hills of the Salt Range of Pakistan which covers four large districts viz: Kalabagh, Mianwali, Jehlum and Chakwal and the average altitude of these areas ranges from 600 meters on the road head to 1200 meters in the meadow, whereas, Markhors, Blue Sheep & Ibex are found in Northern regions of Astor, Bunji, Hushay, Basho, Kaigah, Hunza, Chitral … etc. Altitudes of these areas start from about 2100 meters (or 7000 feet) and go up to 4500 meters (15000 feet). But you may rest assured, with all the support from our team, you won't face any problems going all the way up to such altitudes because there are no technical or high altitude climbs involved and we reckon them as easy to moderate walks


TEMPERATURES

The temperatures during the Hunting Season (NOV-MAR) are quite moderate in all the meadows of Southern Pakistan, (ordinary fleece + a light jacket will do), however, in northern areas, they can be extremely cold and can go down many points below zero degree centigrade. Excessive snow and ice on higher mountain slopes may hinder your approach So very good clothing and climbing boots with gaiters and crampons may be required.

On confirmation of the hunt, we always provide you a comprehensive clothing & equipment list


HUNTING SEASON

The official hunting season begins on 01 October & ends on 31 March. However, this season varies in each province. For example, it's 01 Oct – 23 April in the Northern Areas and 15 Nov – 15 Mar in Punjab and so on. The best time to hunt anywhere in Pakistan is between Mid November & Mid January, This is the time when most of vegetation is covered with snow on the mountain but still available at lower altitudes, like meadows, gullies, ravines, alluvial fans & places near the villages and roadsides. So the animals migrate to these lower pastures and can be hunted easily but if one gets too late, the walks-n-stalks in deep snow on steep ridges become difficult, though, the game is still visible in abundance at lower altitudes.


NOTE:

Once the permits are issued, hunters are given a specified period to hunt (varies as per province)


PERSONAL FITNESS

The habitats of Southern Pakistan (Punjab, Sind and Balochistan) are located at lower altitudes. The hunts are comparatively easier and can be easily accomplished by any age group. So there is No Age Limit and No physical fitness is required, however, since all the habitats in Northern Pakistan are located at to higher altitudes, they require good physical fitness to bear longer walks on steeper slopes. Depending on the altitude and difficulty of the slope, the hunters may be required to know some basic skills of climbing; like use of crampons, jumars, ropes and ice axes. Nevertheless, our experienced guides and field staff will accord you their utmost assistance.


OUTDOOR SERVICES

While in the habitat, our hunting safaris are managed by a team of professional hunters and experienced guides, game watchers, game scouts, cooks, sardars, porters and drivers. 4WD Jeeps, porters or pack animals carry all food, camping & kitchen gear including your personal baggage. All you need to carry is nothing more than your binoculars, while your day pack which may include your spotting scope, tripod, spare ammo, water bottle, rain gear, camera, personal medicines (if any) & other items of your choice & your gun will be carried by our staff.




CAMP FOOD & BEVERAGES



Food on all trips is plentiful, healthy, wholesome & varied prepared by experienced cooks trained in kitchen & table hygiene. The day begins with a cup of tea or coffee in your tent, followed by a full breakfast which includes cereal, milk, eggs, bread, paratha (chapati), jam, honey, corn flakes etc. We always try to serve you hot lunches, however, in lieu of several constraints, we serve cold lunch which may include bread, chicken nuggets, boiled eggs, crackers, cheese, nuts, fruit, juice, fish, salad & tea/ coffee. Dinner is served around 7:30 pm & includes soup, followed by 2 to 3 main courses of stews, rice, lentils, vegetables, chicken or mutton and chapattis. There is always a desert (custard, pudding, kheer, halwa or sheer khorma) at the end of dinners which is served with coffee or tea.



You may also be interested in :

Wild Boar Driven Hunts

FAST FACTS ABOUT PAKISTAN BOARS

► Pakistan's total area is 803,940 s/km - Land area is 778,720 s/km, Water area is 25,220 s/km.
► It's 3 times bigger than UK, 3X Italy, 10X Austria, 19X Switzerland & 26 times bigger than Belgium.
► 75% of our people are engaged in farming and they live in villages, country side and remote areas.
► Easy access to rich crops & lack of pest control has greatly increased the population of wild boars.
► 97% people are Muslims & don't eat or even touch boar (pigs). This factor has also increased boars.
► Wild boar destroys 30% of our national crop, so it has been officially declared as a Pest by our Govt.
► Due to lack of resources, the Govt & people cannot control the ever increasing population of boars.
► Hunters are considered as Heroes by the native farmers & greatly respect them for killing this pest.
► To encourage hunters, our Govt levies No Permit Fee, No Bag Limit & No Fixed Hunting Season.

REMEMBER !
No Permit Fee ... No Bag Limit ... No Trophy Surcharges !
NORTHERN HUNTS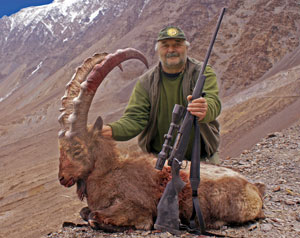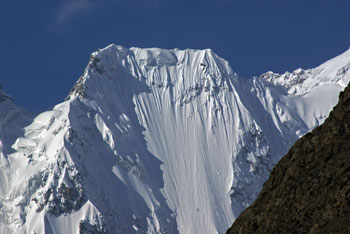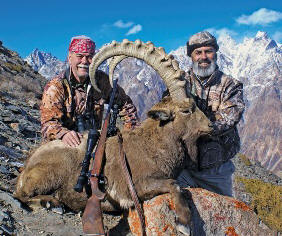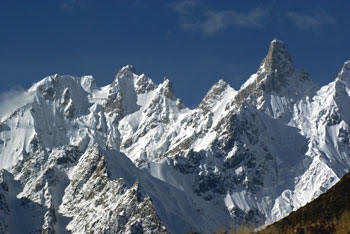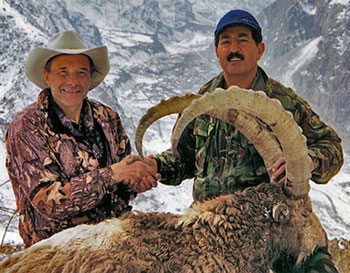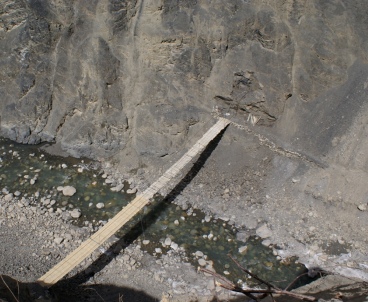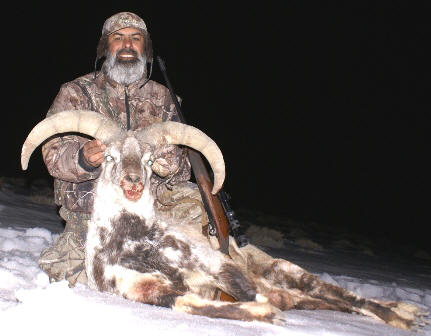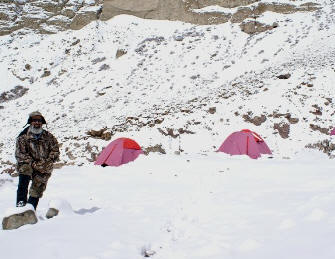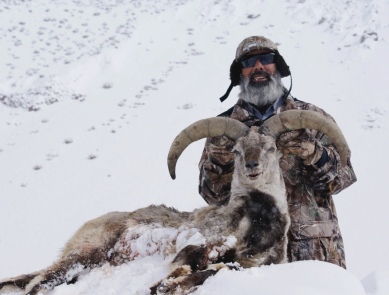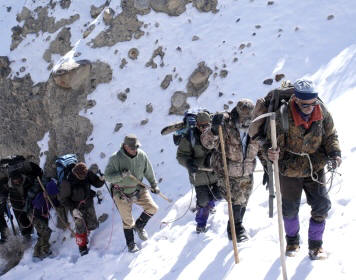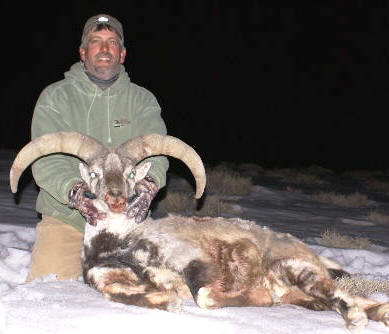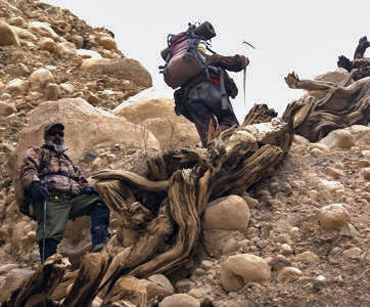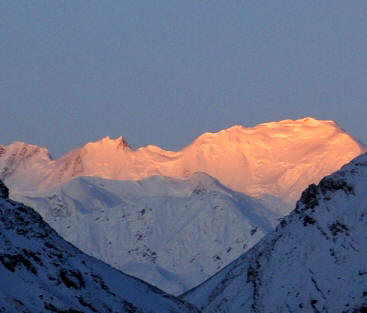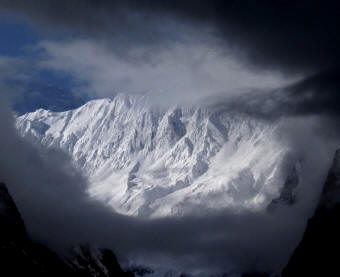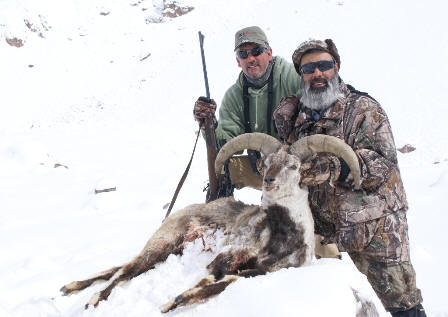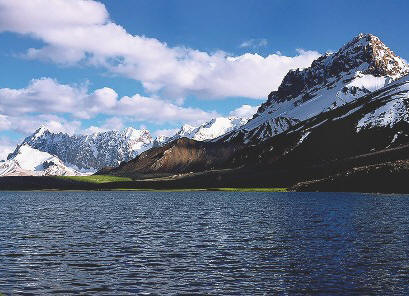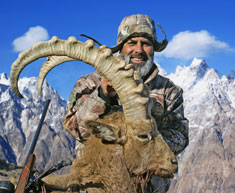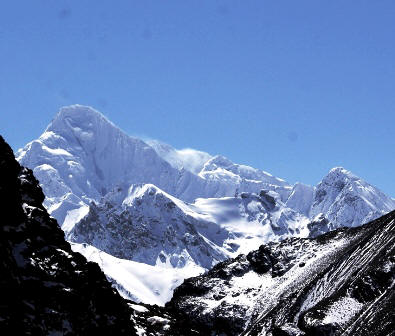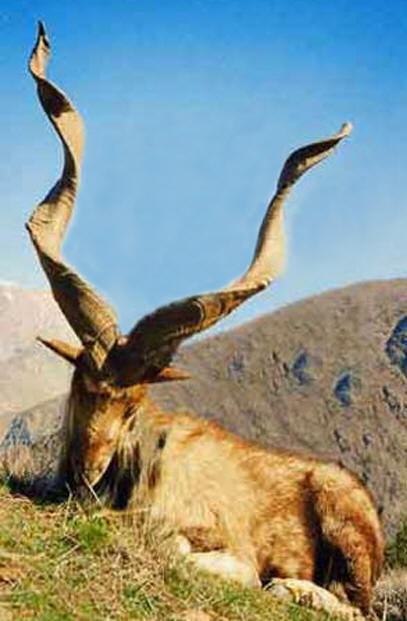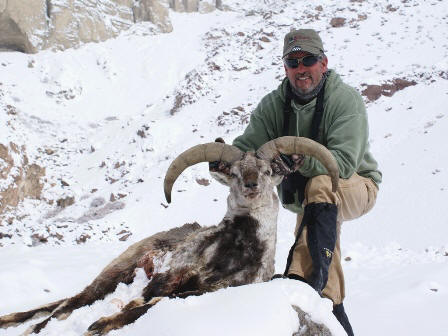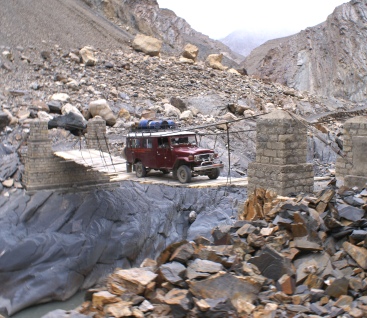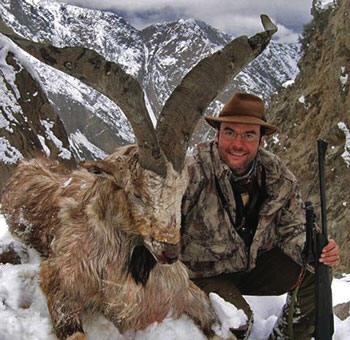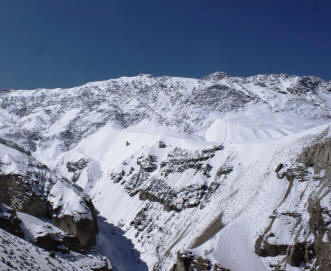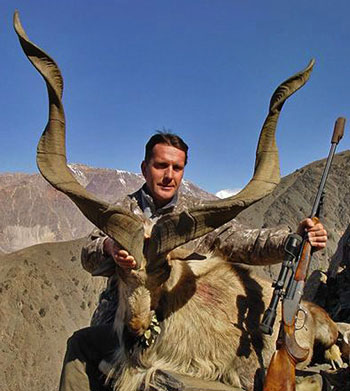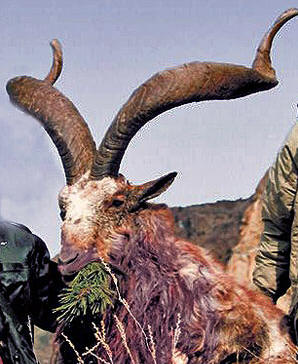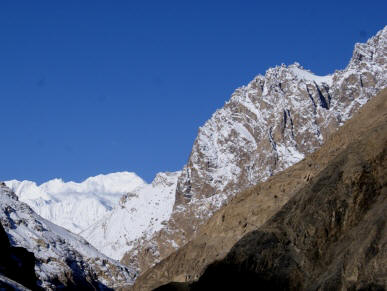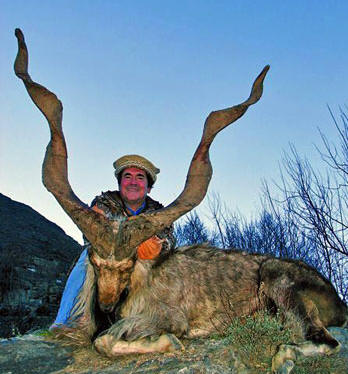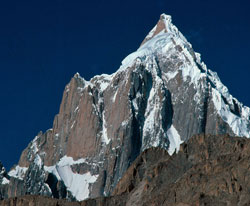 PLAIN GAME